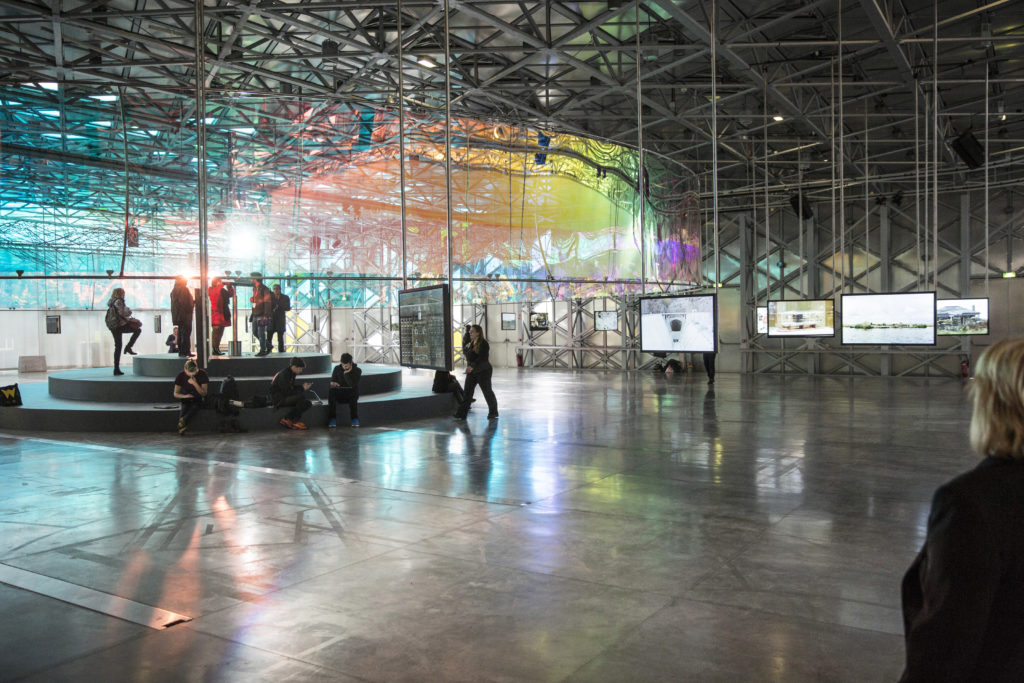 The 2019 Pre-Summit Meeting will be held on 03–05 April 2019 to coincide with the City's design Biennial, the Biennale Internationale Design Saint-Étienne.
 
PRE-SUMMIT LOCATION
The Meeting will take place in the Platine Building in the Cité du design located at:
3, rue Javelin Pagnon
42000 Saint-Étienne
ABOUT THE PRE-SUMMIT MEETING IN SAINT-ÉTIENNE
The Pre-Summit Meeting is the next milestone on a path leading to future full-scale Design Summit Meetings in 2020 and 2023.
The Pre-Summit Meeting will focus on the development of three key projects outlined in the Montréal Design Declaration, which were identified as highest priority by the Declaration Signatories in a recent internal survey.
 
Thus, the Saint-Étienne Pre-Summit Meeting sessions will be devoted to developing three projects:
— Establishing metrics and collecting data and case studies to more effectively communicate the value of design;
— Supporting development of national and regional design policies;
— Fostering development, recognition, support and funding for design education and research, including development of new formats for design education curricula.
 
The Pre-Summit Meeting agenda will include plenary sessions and sessions devoted to each of the Projects. Project sessions will include curated keynote presentations, as well as panel and round table discussions. The results of these sessions will inform the pathway for full activation of the Projects leading to the next full scale Summit Meeting.
 
Each of the project-dedicated sessions are being organised by Project Management Committees (PMCs). The committees include representatives of the organisations that participated in the initial Montréal Summit and invited experts in each of the subjects.
 
The committees will prepare the Pre-Summit by identifying working methodologies, collaborators, project timelines and objectives as well as determining resource requirements and cataloguing available expertise.
Download the Pre-Summit Meeting press release for more details.
 
REGISTRATIONS
Participation in the Saint-Étienne Pre-Summit Meeting is by invitation only and is reserved exclusively to international entities.
 
Additional international, national and regional stakeholders will be invited to attend as Observers.
 
There is no charge for participation in the Saint-Étienne Pre-Summit Meeting. Delegates are, however, responsible for their travel and hotel expenses.
 
For inquiries regarding Registration and attendance, contact:
Jovana Milović
Programme Manager
jmilovic@designdeclaration.org
TRAVEL DOCUMENTS
We encourage all those who will be applying for a Visa to do so as soon as possible, to avoid delays or complications.
An official invitation letter to attend the Pre-Summit Meeting may be requested via the online registration form with information for each of your delegates and/or accompanying persons.
Note that each person attending the Pre-Summit Meeting is personally responsible for obtaining a visa. 
 
PROGRAMME OF THE BIENNALE INTERNATIONALE DESIGN SAINT-ÉTIENNE
03-05 April 2019
Innovation Week: Forum Design & Innovation and Designers Day
The innovation week, within Biennale Internationale Design Saint-Etienne, builds common grounds to cross economic stakeholders (institutions, businesses, designers) and to activate collaborations at the regional, national, and international scales. The Design & Innovation Forum and the Designers Day question the role of design in all kinds of organizations.
 
Participants of both the events will cross in networking moments to enrich their respective reflections.
 
Networking moments
Common lunches on 04 and 05 April 2019.
Evening events:
— Wednesday, 03 April:  Opening Reception 19:00–21:00
— Thursday, 04 April: Design Award Ceremony 19:30–22:30
— Friday, 05 April: Closing Cocktail 19:00–21:00
Exhibitions
The Pre-Summit participants will have the opportunity to visit the exhibitions of the Biennale Internationale Design Saint-Etienne, on the Cité du design-Manufacture site (same site as the Pre-Summit meeting) and in the museums and cultural spots of Saint-Etienne.
Full programme of the biennale: https://biennale-design.com/saint-etienne/2019/en/programme
 
Accommodations
Below you will find a list of recommended hotels. These hotels are located near the Meeting venue. These hotels are recommended as they offer: security, moderate price, proximity to venue, convenient location, etc.
 
We encourage all attendees to book as soon as possible as reservations are made on a first-come first-served basis.
In case of need, you can contact the Saint-Etienne Tourism Office for assistance : information@saint-etiennetourisme.com
Hotel NOVOTEL
https://www.accorhotels.com/fr/hotel-B2Q4-novotel-saint-etienne-centre-gare-opening-march-2019/index.shtml
Adresse : 5 Cours Antoine Guichard, 42000 Saint-Étienne
Téléphone : +33 4 77 42 81 81
Email : benoit.majorel@accor.com
 
Hôtel du Golf
http://www.hoteldugolf42.com/fr/
67, rue Saint-Simon, 42000 Saint-Etienne
Téléphone : +33 4 77 41 41 00 ;
Email resa@hoteldugolf42.com
 
City Lofthotel
https://www.cityloftsaintetienne.com/
15 rue Gambetta, 42000 Saint-Etienne
Téléphone : +33 4 77 30 35 00 
Email reservation@cityloftsaintetienne.com
 
Hotel Les Poteaux Carrés
https://www.hotelrestaurantpoteauxcarres.com/
Adresse : 33 Avenue Denfert Rochereau, 42000 Saint-Étienne
Téléphone : +33 4 77 32 34 36
 
Hôtel Continental
https://www.hotelcontinental42.fr/fr/
10 rue François Gillet, 42000 Saint-Etienne
Téléphone : +33 (0)4 77 32 58 43 
 
Hotel Ibis Gare Chateaucreux
https://www.accorhotels.com/fr/hotel-1115-ibis-saint-etienne-gare-chateaucreux/index.shtml
35, Avenue Denfert Rochereau, 42000 Saint-Etienne
Téléphone :  (+33)4/77379090
Email: ibis.saintetienne.garechateaucreux@orange.fr;
 
ResidHotel St Etienne Centre
https://www.residhotel.com/
5 Rue Louis Braille, 42000 Saint-Étienne
Téléphone : 04 77 45 10 00
 
Hôtel Ibis La Terrasse
https://www.accorhotels.com/fr/hotel-0801-ibis-saint-etienne-la-terrasse/index.shtml
35 Place Massenet, 42000 Saint-Étienne
Telephone : + 33 4 77 93 31 87
 
Kyriad, centre de Saint-Etienne
https://www.kyriad.com/fr/hotels/
77 Rue de la Montat, 42100 Saint-Étienne
Téléphone : +33 4 77 21 12 21 
 
 Cheval noir
https://www.inter-hotel.com/hotel/rhone-alpes/saint-etienne/du-cheval-noir
1 Rue François Gillet, 42000 Saint-Étienne
Téléphone: +33 4 77 33 41 72 ; 
 
 
For more information please contact:
 Jovana Milović
Programme Manager, Design Declaration Summit Meeting
jmilovic@designdeclaration.org