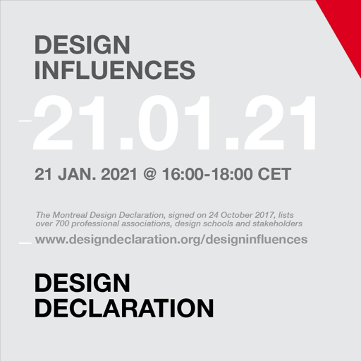 Three years have passed since the signing of the Montréal Design Declaration in 2017, and one and half has passed since we last convened as a coalition around the Design Declaration in St. Etienne in 2019.
This on-line gathering is an opportunity to hear the voices of the 20 plus organizations underpinning the Design Declaration, along with thought leaders and experts, on the influences impacting design and how design can best influence.
Co-chaired by Regitze Hess and Alok b. Nandi, Design Influences is convening a spectrum of voices, instrumental to the Design Declaration, to share and hear what is influencing design and the design community and how design and the design community can influence.
Design Influences – what are currently the most significant influences on design
Design Influencing – how design is currently influencing the world around us
Design Influencers – who are at the crux of design
DESIGN INFLUENCES
21 January 2021 @ 16:00 – 18:00 CET
Register today

For information:
designinfluences@designdeclaration.org